Test it on Twitter.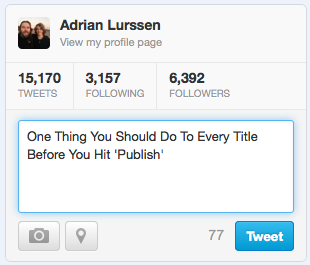 That's it. Which is not to say: tweet out your title before you have a link to accompany it. Rather, open a window for a tweet and paste your prospective title into it, specifically to measure how many characters you use. Less then 115? Good. Your title is likely tweetable (is that even a word?)  in full, and that's a good thing.
What I am saying here, of course: among all the other things you do to write a good title, make sure that it is shareable among your readers. And by shareable, I mean: make sure it remains intact when people share it on Twitter. Twitter's cap on 140 characters is a good standard by which to measure title length; you can expect the title also to show well on LinkedIn, Facebook, and mobile devices.
Does this really matter?
You bet it does. I say that with certainty because, daily, I see tweets to links in which it's not always easy to parse the meaning of the the post (ie, it's not easy to know why I should click the link) because the title is truncated before its full meaning shows itself.
But it's not just about social media. Your readers are surrounded daily by many choices; they see vast amounts of information on their screens every time they check in. In other words, your competition for attention is fierce. Not every post your write is meant for Twitter, but if you set for yourself that standard for brevity – if you are able to communicate meaning in 115 characters or less – it's likely you're also managing to be compelling in your title (no waste of words) and you're increasing your odds of standing out in a very noisy crowd. And in practical terms: you're making it easy for people to share your work without altering (or clouding) the meaning.
Indeed, not every post is written for Twitter – and some of your publications cover matters that require more words to communicate their meaning – but, when you can, set this standard for yourself. And, of course, I say 115 characters because that safely leaves 25 for your URL. Probably more than you need, but…