[This is the latest in my "Jill's Good Reads" series, in which I highlight a couple of worthwhile content strategy posts you should definitely read in full. I use the word science in my own title because I want to point you to two recent reports on research helping us to understand why we click what we click online, why we share what we share…]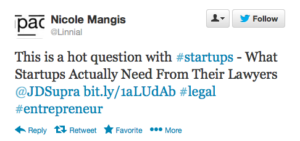 Anyone publishing content regularly for online consumption can find practical takeaways throughout both of these reports – different as they are from each other – and the takeaways are not just limited to writing good titles. As I said, I suggest reading both in full. In the meantime, the highlights:
1. The Secret to Headlines That Attract Readers & Shares Every Time
An excellent post on making your titles stand out, by marketing consultant Heidi Cohen. I was especially intrigued by Heidi's report on the results of testing "headline effectiveness" by SEO company Conductor. Specifically, for top-performing titles:
36% of respondents preferred headlines containing numbers (actually 39% for women)
21% of respondents preferred headlines that literally talk to them ("you")
17% of respondents preferred headlines that show them how to do something
Heidi's takeaways ("Actionable Marketing Tips"), matched in order of above (and quoted by me, with thanks, from her original post):
Incorporate a list and related a number where appropriate
Craft titles that address your audience by using the word "You"
Use your headline to attract potential readers interested in learning from you
(BTW: These findings hold true for us, too. One example: my colleague Adrian Lurssen has a popular presentation on what makes some content more visible than others. His main example, the most well-read update on a change to the U.S. patent system, incorporates some of all three of the above considerations in its title: Top Ten Reasons To File Your Patent Applications Before March 16, 2013.)
Heidi also reports on findings regarding the use of superlatives (best, greatest, fastest, most amazing, etc.) in titles. Her big takeaway from the Conductor findings:
…readers prefer that you give the the facts. If you need to throw in a superlative, restrict yourself to one or you'll lose traction.
I would translate this as: be clear, compelling, and to-the-point. In fact, brevity also helps when you are writing for a social platform that, for example, only allows for 140 characters. A short title appears in full when shared on Twitter if it is … short enough.
2. The Psychological Connection Between How We Think and How We Spread News on Social Media
This next study – reported by Sonya Song for the Neiman Journalism Lab – is big, meaty, and worth your full attention. From the intro:
[Sony Song], the current Knight-Mozilla Fellow at The Boston Globe, … was working on a major analysis of what works and what doesn't on Facebook when it comes to sharing news stories. She's expanded that initial research into a deep look at the psychological motivations behind sharing and the touchstones that can make a post spread to new audiences.
Song's impressive report for the Neiman Lab delves into so much more than simply writing a good title (that people are willing to share). Even so, here are some of her takeaways from the end of the report, with "sharing" in mind:
People constantly switch between fast and slow thinking modes
On social media, people are mostly guided by the fast mode
To cater to the fast thinking mode, we should make better use of image and keep our language simple
If you want to encourage a discussion, please ask questions.
If you want to see more shares, consider infusing emotions into the stories; both positive (awe and amusement) and negative (anger and anxiety) emotions may work.
Of course, not all of these notions work in all situations and, more to the point, in Song's words:
I by no means present it as a recipe that newsrooms should adopt strictly, because 1) overuse of these strategies may wear out readers and 2) creativity works best.
—
The Updates – Jill's Good Reads:
Happy holidays!