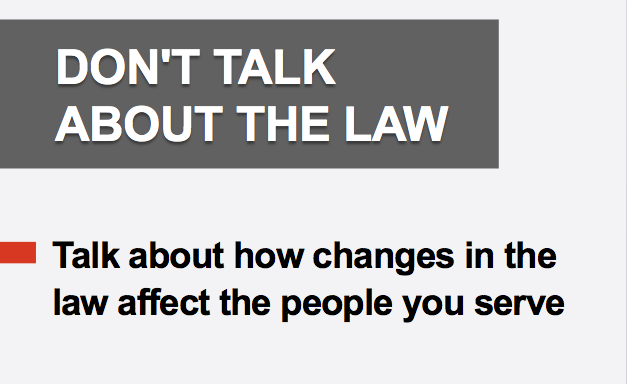 My colleague, Adrian Lurssen, has a presentation about what makes some pieces of content more popular than others – and he ends with the above point. Don't write about the law; write about how the law impacts the people you serve. In other words: make it about your clients.
Adrian's point is about content marketing and best editorial practices. Lawyers are, inevitably, excellent at writing for other lawyers. And when you are writing for a sophisticated audience of in-house counsel, that can be fine. However, even in-house counsel are busy people, and the more you can make it about them – the more you can explain the world through their eyes – the better.
I think this is a great point about editorial strategy, but it's an approach that can also apply to more than just the content you create.
Here's a great example of what I mean from Alan Cohen's recent The American Lawyer article, Big Law Social Media Success Strategies – bolds are mine:
But what really stood out was an approach that Fenwick & West took: It devoted some of its tweets to touting its clients. On one day, the firm tweeted twice with links to articles about Flipboard, a start-up that makes a popular app for mobile devices. ("Very cool news for our client: Half a million @Flipboard magazines have been created in the last 2 weeks" read one.) In just a couple of tweets, Fenwick managed to convey several important messages: The firm is keeping an eye on what its client is up to, is helping to promote that business, and understands and uses the same technologies—mobile devices and social media—that its client is involved with. That seemed like a pretty smart use of Twitter.
Awesome. Go big on social media – but make it about your clients. Don't just write about their needs, also celebrate their successes. Here's another Fenwick example:
Congrats to client @Quixey on raising $50M in a round led by Alibaba, "a sign [they're] on to something" http://t.co/FPck7dZOlt cc @Gradish

— Fenwick & West LLP (@FenwickWest) October 3, 2013
Some of you are reeling at the thought of this. You serve clients who would never want you to discuss that fact publicly. Perfectly reasonable. Don't do it.
But others of you do serve exactly the type of client whose loyalty would be, in my view, unmatched if you not only served their legal needs, but also did whatever you could – big or small – to understand all aspects of their business, and help them to achieve some of their goals. Sometimes that's a tweet, other times a personal introduction. It could also be a video series, a webinar, or a mobile app that your client finds indispensable. The possibilities are endless – and all hinge upon just one thing: what do you clients need?
Make it about that.
—
[Send me examples of firms making it about their clients and I'll list them here.]