The 2013 In-House Counsel New Media Engagement Survey by Greentarget, Inside Counsel, and Zeughauser Group is out – and I'm happy to say that your content on JD Supra is well represented in the findings. Specifically: on the question of credible news sources for in-house counsel, after traditional media, news aggregation sites, including JD Supra, ranked highest – followed by LinkedIn, Wikipedia, and blogs.
Indeed, in-house counsel reported that they found news aggregators like JD Supra almost three times more credible than blogs and Wikipedia, and almost two times more credible than LinkedIn. You can see the results in the screenshot below, and on page 32 of the full report, embedded at the bottom of this post: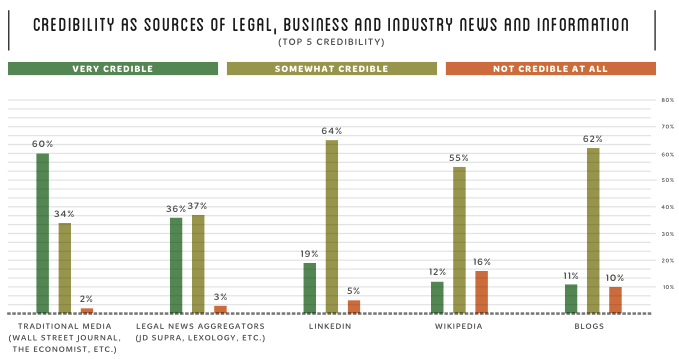 As a platform that brings visibility to your expertise via the content you produce, we're obviously also heartened by the findings on page 30 of the report. There, in-house counsel cite the three top influences in their hiring decisions as, in order: personal recommendations, attorney BIOs, and written work (attorney articles and speeches, etc.).
These findings are just the very tip of the iceberg of an annual survey that's deserves your full attention. Of note: the rising role of law news blogs, mobile consumption of legal information, LinkedIn as the "serious" social network, and the rise of the "invisible user" – among other highlights. (We'll publish another post as we make our own way through the additional data.) There's much to learn from the report – and, as we said last year, the team at Greentarget et al have put together a roadmap for any law firm serious about engaging in-house counsel via new media today.
[Link: 2013 In-House Counsel New Media Engagement Survey]
—