[Note: we recently helped Dechert LLP launch their Facebook page. The international law firm has a track record of being comfortable with social media and so we thought we'd ask Peggy Heffner, public relations and social media manager, to lead by example with a quick explanation of: why Facebook? Why now? For your reference:]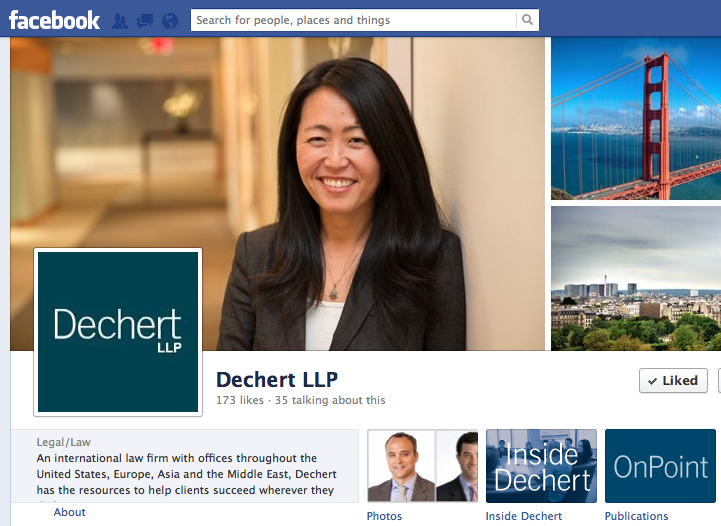 Once viewed as "too personal," Facebook is fast becoming an important tool in Dechert's marketing mix
While reviewing our website analytics a while back, I came upon what for many at my firm would have been a surprising statistic: over the past six months, Facebook had been the third leading driver of traffic to our site, despite our lack of a formal presence on the social network.
How could this be? Although Dechert is pretty progressive among law firms in its use of social media (I would know – few firms our size have a designated Social Media Manager!), we had always stuck to more "professional" social sites for B2B marketing, such as LinkedIn. Facebook was simply "too personal." Yet here was proof that among the 1 billion Facebook users out there, there was an audience for our content — all we needed was to give them something to "like."
Around the same time, the marketing team and others within the firm were beginning to grapple with a variety of communications issues. Externally, we were looking for new ways to connect with law students, recruits and alumni. Internally, we needed to come up with a better way to engage all of our employees. Like most firms, the majority of our marketing has focused on the many accomplishments of our partners, but others, from support staff to junior lawyers, increasingly felt they were missing from the conversation, and we wanted to create a tool that would celebrate everyone's successes. More and more, Facebook seemed like the perfect solution to all of these issues.
With contributions from the marketing, associate development and recruiting departments, among many others, we've created a Facebook page that includes regular updates on all things Dechert, including news and events, employee profiles, alumni gatherings, charitable activities, pro bono work, publications, photos and more. We hope this new tool will allow potential hires to discover the firm, alumni to reconnect with the firm, and current employees to feel a part of the firm. We look forward to building a community in which all of these important audiences find something to "like!"
—