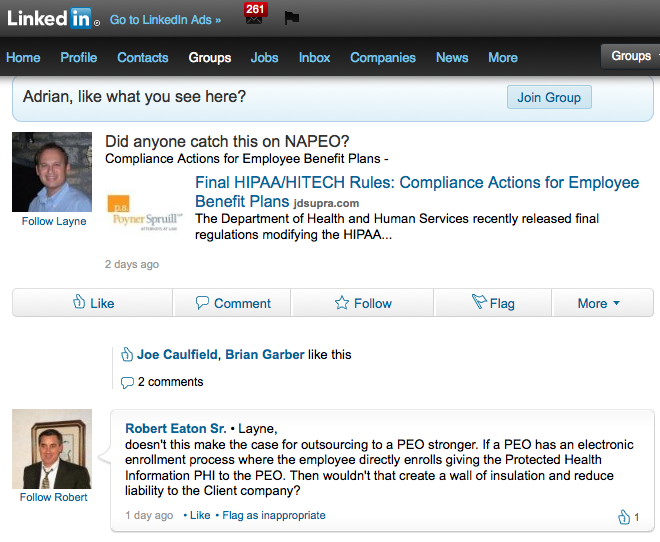 We regularly hear from attorneys and law firm marketers who are pleased that their valuable analysis, commentary, and news is well liked on social media. What we don't see as often from law firms is follow-up: making the most of that attention and turning it into opportunity.
So what should you do if your legal content is being liked, shared, and discussed on LinkedIn, Twitter, Facebook, blogs, etc? Here are some practical suggestions:
1. Send a private note of thanks and invitation to connect with you…
An obvious first step, right? If a professional in the industry you serve shares on LinkedIn a piece of commentary you wrote (blog post, client alert, what-have-you), connect with them on LinkedIn. Benefits: many, including ongoing connection with you and easy access to the next piece you write.
2. Publicly thank the person for sharing your work…
…also, join the conversation if (as often happens) the share turns into dialogue between, say, members in a particular LinkedIn group. Two benefits, among others: first, visibility to the entire group, where you can further demonstrate your expertise by following up on what's being discussed; and: second, your public note of thanks makes it easy for silent observers in the group to notice you and connect, should they want to do so.
3. Use the "share" to guide your next writing…
Frequently with JD Supra contributors we see shares and discussions around content on LinkedIn that reveal obvious next writing assignments. These ideas can come from lively debates in comments, outright objections to your views (your next piece can take on the criticism), or from explicit suggestions in the shares ("I like this post, but wish it also talked about…").
On this last score, I would advise keeping an informal list of names of people who share your work on the social networks, their blogs, and elsewhere. Include those engaged readers in the first round of your own "shares" when you write a new piece, or when you're announcing an event/speaking engagement. After all, they've shown that they're willing to read your work. Make the most of that.
…
We all want that one article we've written to be a home run, an out-of-the-park success. The problem with such thinking is that if you don't hit a home run every time you write (ie, get a new client, press mention, or invitation to speak, etc.), you may well consider your writing a "failure."
It doesn't really work that way. Home runs are terrific, and they do happen. But the rest of the time, there are many things you can do to extract value from the way your work is received online. It's all in the follow-through. This is where content and conversation meet.
It's not just about relationships and it's not just about content. It's about both.
——
What do you do when people share and discuss your work favorably online? Let me know and I'll include your pointers here…
Paul Ryplewski, JD Supra Client Services Director