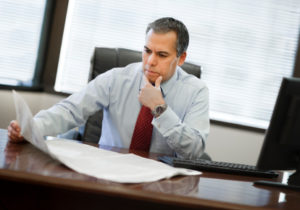 As you plan your law firm's content strategy, I think it important to measure your efforts against two big-picture goals: Discovery and Habit.
I use those words in particular because they clarify how you are seen in the minds (and actions) of the people you are trying to reach, your online audience of readers. Here's what I mean:
1. Discovery
Are people seeing your work online or not? A no-brainer question, right? In a content strategy, this is often expressed as: do we have readers for our work, and how many? The first measure that usually comes up in this regard: how much traffic are we getting to our website, or blogs? And from there, additional good questions arise: is our content turning up on the first page of Google search results? Do other websites link to our posts and articles? Are people watching our videos? Do readers share and recommend our content on social platforms? All of those questions and others measure your first important goal: are people able to discover and read our content online?
In short, "Discovery" is the rallying cry for all of your efforts to get in front of people who should know what your firm does well. And, when it comes to content strategy, that means: all efforts to ensure that your law firm's publications are found and read online. Period.
2. Habit
People who discover your content are, by definition, first time readers. Great. But do those readers make a habit of reading you again? That should be your next, most pressing goal. "Habit" can be automated in a handful of important ways (by encouraging people to subscribe to a feed of future content by email or social platforms), but the only long term way to guarantee habit is by providing value to the people whose attention you are trying to keep. In a content strategy that means: writing about what matters most to your audience. (And then giving them the opportunity to sign up for more.)
In short, "Habit" is the rallying cry to guide your editorial and technical efforts to keep the readers you've worked so hard to earn in the first place. Usually, this manifests in a handful of ways today: are site visitors signing up for our email alerts? Are people following us on Twitter, LinkedIn, or even Facebook? Are readers subscribing to our RSS feeds? What's the open rate on our emails? And, perhaps the most important measure: how many visitors to our website are return visitors?
I said that "Habit" can be automated – and actually I believe that it must be. Online, you seldom get what you don't ask for. Even if you are creating content of extraordinary value, if you want people to come back again and again, give them an easy way to do it. Traditionally, this has meant offering email alert sign-ups — and, nowadays, allowing people to Follow for updates on, for example, Twitter, LinkedIn, Facebook, RSS, and so on. (Broadcasting on social media is appropriate if your subscribers know in advance that that is what you will be doing – the choice is theirs to sign up or not.)
—
Discovery and Habit go hand in hand. For example, I think JD Supra might well be known as an engine for discovery (we put law firm content in front of people who might not otherwise have a chance to see it), but on a daily basis we focus greatly on making readers of your work habitual readers. Behind the scenes we constantly measure things like first time versus repeat traffic, email open rates,  successful traffic sources, and so on. (Take just one of those examples: email subscription rates measure reader willingness to stay in touch, to hear what you have to say next. Email open rates and click-throughs of the links you send measure whether or not that willingness actually becomes habit.) And what we learn behind the scenes guides our actions as we work to help readers come back again and again – as we work to become part of their daily or weekly reading habits.
—
Doubtless, there are many ways to describe what I am saying here. I like to use this language – discovery and habit – because it allows you to write down two first questions to guide your content strategy. Below each question, you can then list the action items to help you get it done. To whit:
1. Are people discovering our work online?
2. Are they coming back for more?
—